photo: Futura Tittaferrante
Often a simple review does not quite mirror the actual theatrical situation in a foreign country. A reportage is what we might really need.
With this monthly series, we are going to re-publish the reports from Rome written for printed British magazine Plays International, in order to give our non-Italian readership an overview of what's on in Rome (and, through this, in Italy) in these months. Let's start with sketching a map of the interesting venues to head off to if you visit the capital city.
In our last report we described the current situation in Rome comparing it to livelier times in the past. Now it's time to go deep into what the Italian capital is in fact able to offer in today's cash-strapped times.
Nowadays, Rome frankly cannot keep up with other richer cities in the North: an impressive version of Bertolt Brecht's Fatzer Fragment opened in early February in Turin involving Italian director Fabrizio Arcuri and German René Pollesch from the Berlin Volksbühne; Milan hosted a broad project about Russian theatre at the Piccolo Teatro but here we have been waiting in Rome meanwhile to see the first Italian production of Tom Stoppard's The Coast of Utopia, following its premiere in Turin.
And yet the beginning of 2012 has brought something really interesting to the stages of Rome too. After an overblown attempt to Luigi Pirandello's Tutto per bene by the Teatro Stabile di Roma's artistic director Gabriele Lavia, the Teatro Argentina staged a very remarkable revival of Tennessee William's A Streetcar Named Desire by the internationally known Antonio Latella. As in his past works, here's one more example of theatrical genius at work and able to reflect deeply on the text he is presenting as well as on the means of its staging. Full of piled up elements, the set of Latella's production offers a narrow performing space for the cast, which creates a sort of perspective distortion, whilst at the same time the analysis of the text proved to be cutting-edge. The character of the doctor, who appears only in the last pages of the play, is here invested with the great responsibility of a prologue. The doctor will follow the whole staging becoming a sort of collective consciousness halfway between a deus ex machina and a psychiatrist (he inhabits a right-sided angle furnished with emblematic leather-couch and lampshade).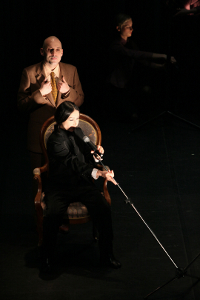 Equally original and stylistically impeccable has also been Massimiliano Civica's Attraverso il furore (Through Wrath), seen at the Teatro India. This mixes three sermons of German mystic Meister Eckhart with as many short dialogues by young playwright Armando Pirozzi. In an atmosphere of meditation and silence, old and charismatic actor Marcello Sambati sits on one side of a long table reading Eckhart from a wooden bookrest; two fine young actors (Diego Sepe and Valentina Curatoli) sit on the other side, apparently floating on a faraway time-warp and not listening to the orator, who is in fact speaking to the audience itself. We notice this as soon as enter, as we are involved in a sacred ritual, and he slowly turns his head and looks in our eyes. The dialogue between man and woman, cut in short lines and full of silences, reminds one of both Pinter and Bergman.
A great job has been done by playwright and director Lucia Calamaro in her L'origine del mondo (The Origin of World). Divided in four parts, this five-hours theatrical experience bases its power on the text. This is a man's world, Calamaro seems to say. Three women (above all in the most impressive Daria Deflorian's performance) – daughter, mother, and grandmother – represent three steps into a female universe, which is quite an happening in a theatrical scene dominated by men. However Calamaro's overflowing writing perhaps risks coming across as too self-involved and too little concerned with the outside world of today.
Less successful has instead been Andrea Baracco's staging of Shakespeare's Julius Ceasar, selected to be the Italian language production out of 37 in the frame of Globe to Globe event, programmed at the London's Globe Theatre from the end of April until early June 2012. Inspired was the idea of taking Ceasar, the senators and the triumvirs away from the list of dramatis personae and to concentrate on the conspirators, throwing them into a dreamlike and creepy atmosphere; good also was the attempt to only use three old (movable) doors to recreate corridors, dark alleys, streets of Rome and encampments in Asia Minor. But the obtrusive music used for effect, the narrow space left to female characters – which would instead deserve attention as a symbol of the actual Rome, the good side of Ceasarean government and ideals – and, above all, the general low level of the cast worked against the ambitions of the production.
Much better was Nobel Prize winner Elfriede Jelinek's Bambiland production at the Teatro dell'Orologio, full of young and promising actors facing one of the most incredibly difficult plays of the last 20 years. No lines, no characters, no scene divisions, just a violent, manic and overwhelming text. The creation of a stream of (collective) consciousness takes place thanks to a Greek chorus which tells about the reasons of an apparently nonsensical war. The sense is that of a monument of capitalism and greed. And no screams could be louder than this Jelinek's invective.
More ironic but not weaker is Caryl Churchill's Drunk Enough to Say I Love You?, staged by the senior and experienced actor Carlo Cecchi at the Teatro Vascello. Unfortunately, as very often happens, a high-sounding presence and style masks the essence of a play, sacrificing the words to the voice of the speaker.
The exact opposite occurs when the humility of an artistic vocation is offered as a powerful weapon against racism and xenophobia. This happened with Black Reality, the remarkable result of a brilliant wokshop project done by Valerio Gatto Bonanni and Gianluca Riggi with a group of immigrants gathered together by the Casa dei Diritti Sociali (The House of Civil Rights). This very simple and deeply touching show which premiered at the Teatro Palladium: thirteen people coming from disparate countries to take part into a joyful yet grievous kind of a ritual. True facts and symbols match, and give a taste of how hard overcoming a horrible past through the bureaucracy which (sometimes) leads to get Italian citizenship. Our country is full of ignorance and blindness, alas, bit it does no harm to have a constant reminder of it, in order to keep the fire of reaction alive. Again, in this respect theatre is a form of exorcism. For the artists, but most of all for spectators.
Sergio Lo Gatto
This feature has originally written for/published on Plays International, winter 2012 issue (Vol 27, Nos 3&4). Used by permission. All rights reserved. Thanks to Peter Roberts.
Jump to the other reports from Rome